Early this morning, the print edition of Straits Times updated parents with additional information about the impact of the new subject-based banding for secondary schools in 2024. This is our analysis.
Referring to the table below, you will see that a low AL score for PSLE means that Sec 1 students in non IP schools will have the opportunity to get into the best classes for each subject. Unlike the AL score for PSLE, in secondary school, the higher the G ranking, the stronger the class. Thus, a G3 class in secondary school is the top class for each subject while a G1 class is the weakest.
Current Streaming
PSLE score (2021 onwrards)
Subject eligibility in Sec 1 (2020 onwards)

Express
AL 4 – 20
G3
Express or
Normal (Academic)
AL 21 – 22
G2 or G3
Normal (Academic)
Al 23 – 24
G2
Normal (Academic) or
Normal (Technical)
AL 25
G1 or G2
Normal (Technical)
Al 26 -30*
G1
As a refresher, the new PSLE Scoring system that takes place in 2021 has been shown below.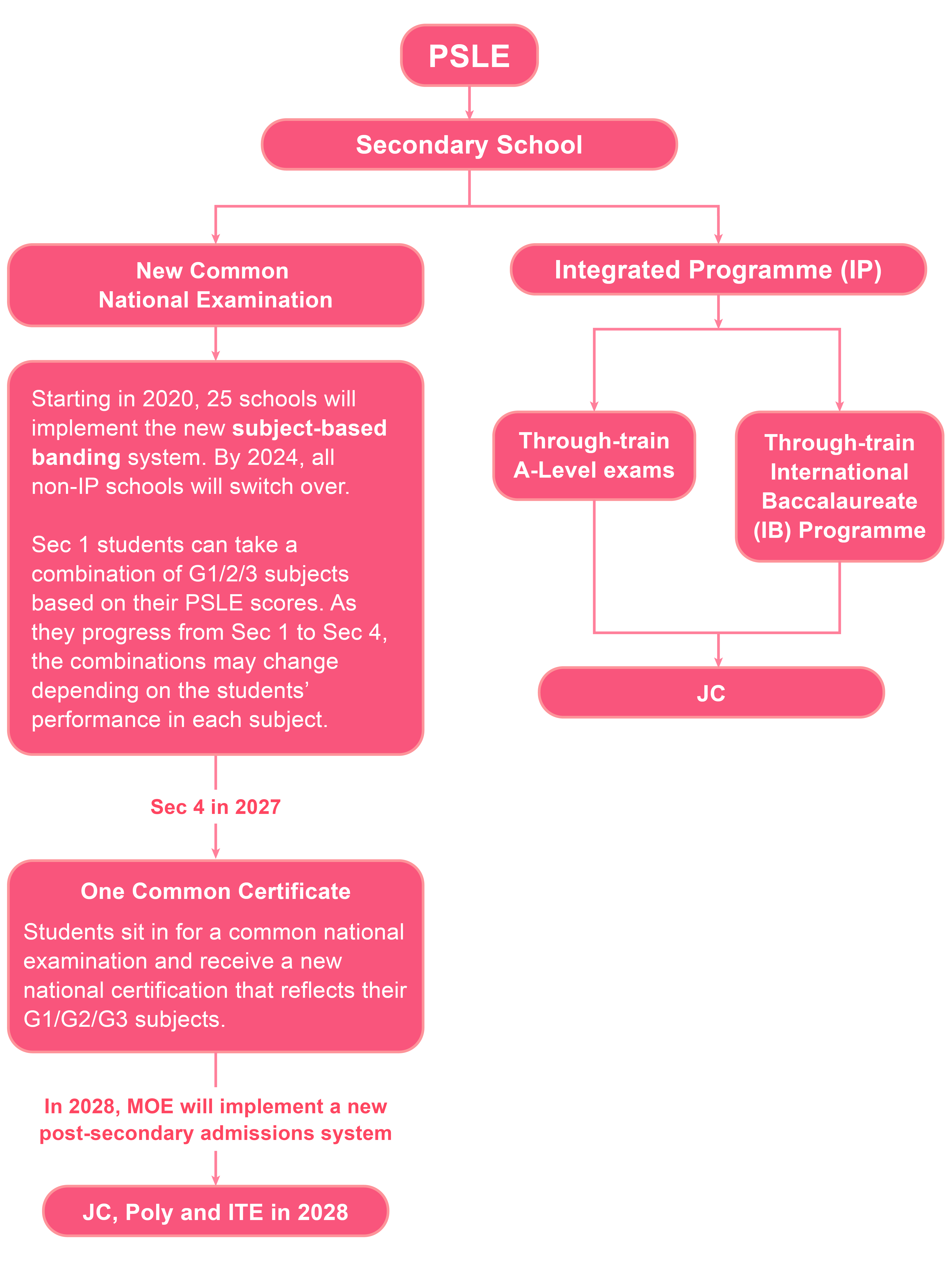 Conclusion
Less labelling but the reality stays.
From 2024, secondary school students can no longer be identified as Normal or Technical students. In the past and today, these labels identify them as academically weak students. So the change in policy will remove a certain amount of shame and embarrassment. However within each school, everyone will know that the G1 students are weaker than the G3 students. This is a harsh reality of life and it cannot be avoided because streaming enables students to learn and to be taught at a pace that is more suitable for them.
Opportunity to improve after a weak PSLE score but..
Students who do not excel in any particular subject for PSLE have a chance to redeem themselves by putting in hard work so that they have a chance to move up from G1 in Sec 1 to G3 in Sec 2, 3 or 4. Having said that, they will have to work extremely hard to move up if their foundation in primary school was weak in the first place. So realistically speaking, this potential to move up sounds good but may not be achievable for the vast majority of non IP students.
This is because the work load in secondary school is much greater than primary school. Suddenly, Sec 1 students have to focus on 8 subjects compared to 4 in primary school. Then, they will be spending 2 to 3 afternoons every week on CCAs. With less time to study and more subjects to study in secondary school, it would be difficult to improve so fast if one's primary school foundation is weak in the first place.
From 2024, 2 major 'streams' – IP and Non-IP schools, a greater divide may form.
Does the new 2024 subject-based banding system create an education system that is more inclusive and less elitist?
An education system is inclusive if students are streamed objectively. Hence, the role of exams and why marks are still the most objective way to place students.
An education system that sorts out the academically stronger students from the weaker students will always seem elitist because branded schools with the strongest students will always be sought after.
Going forward, the divide between IP and non-IP schools will only grow wider and wider. What educators need to do is to teach our students that being academically strong does not mean that they are better than students who are weaker. It will be a challenge given the prevailing attitudes but if we, ourselves as adults believe this, the students of Singapore will be better off.
Appendix
| | | |
| --- | --- | --- |
| | Primary School | Secondary School |
| | New PSLE scoring system | New subject-based banding (new Common examination) |
| | Starts 2021 | Banding starts in 2020 (25 schools) but implemented nationwide by 2024 |
| | Affects all students | Affects only non-IP students |
| Birth year of child | 2009 | 2011 |
| P1 year | 2016 | 2018 |
| PSLE year | 2021 | 2023 |
| Sec 1 year | 2022 | 2024 |
Which children are affected by the new PSLE scoring system?
Children born after 2009 and enter P1 after 2016 will be affected by the new PSLE scoring system where AL scores are used to stream them for secondary school. The lower the AL score, the better. Children who go to either IP or non IP schools are all affected by the new PSLE scoring system.
Which children are affected by the new subject-based banding for secondary school?
Children born after 2011 and enter P1 after 2018 will be affected by the new subject-based banding for secondary school. If they enter a non-IP school, they will be assigned to classes ranked from G1 (lowest) to G3 (strongest). They will all sit for the new Common examination in 2024.
Students who go on to IP schools will not be affected by this initiative.
Written by The Schooling Society (A Boutique Enrichment Centre)