Is fish good for our brains?
In May 2018, a study published in Neurology revealed that a diet rich in fish, fruits, nuts, whole grains and vegetables may increase the total brain volume. Researchers at the Erasmus University Medical Centre of Netherlands had studied 4,000 people over a ten year period. They noticed that the brain area responsible for the processing of memories, the hippocampus, was larger in people who had healthier diets.
In Asia, fish is most commonly steamed or deep fried. For children, fresh fish fillet is often used to make fish porridge. Cooked rice is poached in a hearty chicken stock before slices of fish are added in, just before being served hot. A staple at many homes, this dish is simple to prepare, healthy and delicious.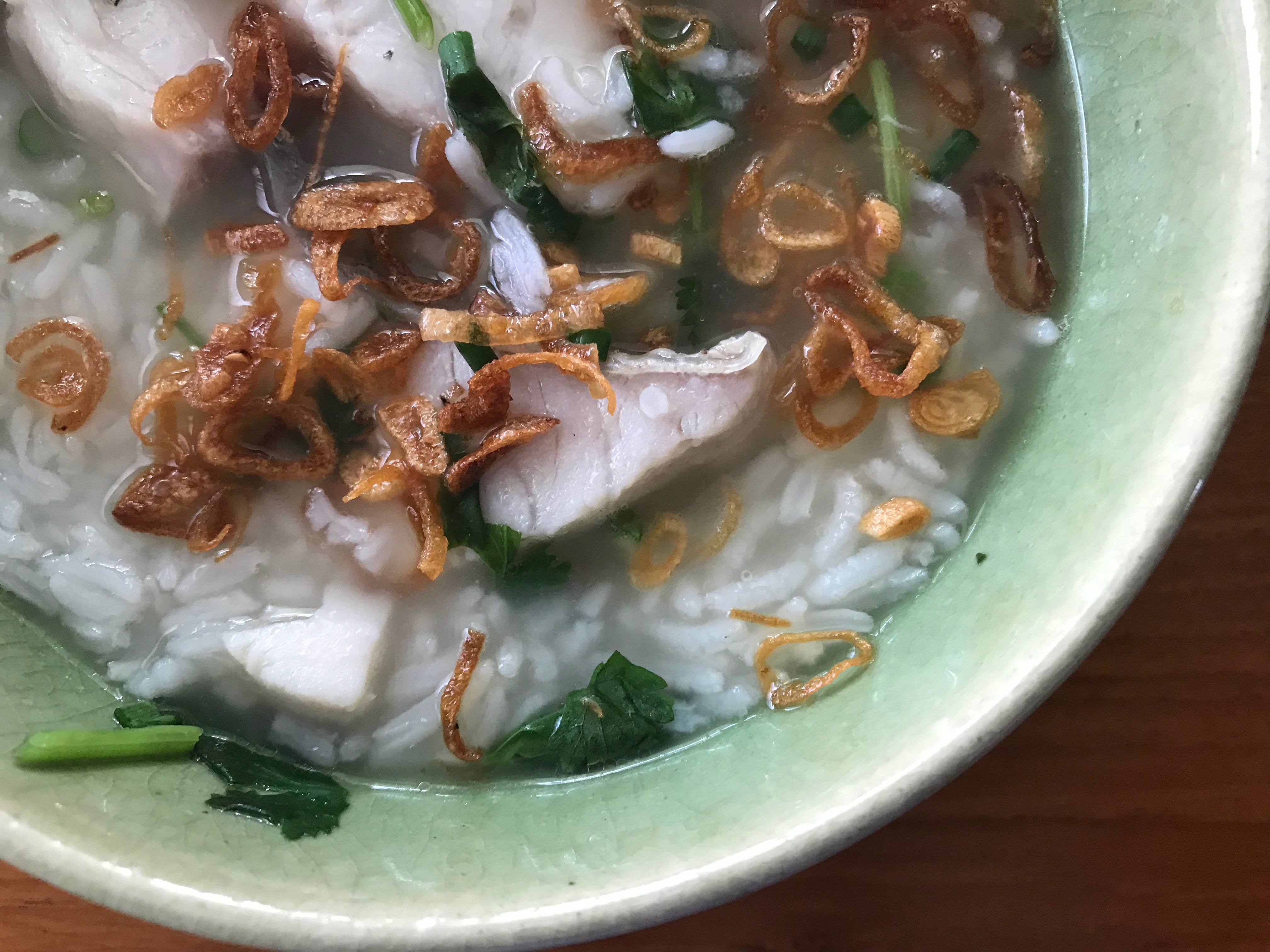 Fish Porridge 101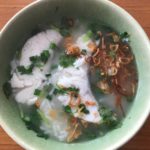 Print
Ingredients
Fresh produce: 600 g Threadfin fillet with bones removed (also known as kurau or 'mah yau yee') – Sliced into pieces of equal thickness to ensure even cooking but not too thinly since this fish is soft and a bit fragile. OR 600 g Spanish mackerel fillet (also known as batang fish) – Sliced into pieces of equal thickness but since batang is firm, the slices can be cut thinner. Garnishings: Young ginger (cut into very fine shreds) Coriander (peeled just before using) Spring onion (cut into rounds) Crispy fried shallots 4 (rice) bowls of homemade chicken broth (soup) 3 (rice) bowls of cooked white rice
Instructions
1. Heat up the chicken broth in a pot. 2. Taste and season with sea salt or a good quality fish sauce. 3. When the soup is boiling, add the rice. 4. Cook for 5 – 15 min. The rice should still be firm. 5. Gently add the sliced fish slices. 6. Cover the pot for 2-5 minutes. 7. Check to make sure the fish is cooked through. Don't over stir as this will break up the fish. 8. Dish out and garnish with spring onions, coriander,fresh ginger and fried shallots. 9. Serve hot with a sauce plate of light soya sauce mixed with white pepper.
Notes
(1) Threadfin is a popular fish commonly used to feed children as it is fleshy with little bones; ask your fish monger to fillet the fish make sure that there are no bones. This fish can be bought in advance and frozen for about a week. Do not wash the fish before freezing to retain its freshness. As for batang fish, try not to freeze for more than 3 days (2) The recipe for homemade chicken stock - use 1 whole chicken (chopped up and skin removed to boil with 2 kg pork marrow bones, 300 g of ikan billis (dried anchovies) and 2 slices of ginger with 3 litres of water. Boil this broth for about 1.5 - 2 hours. The cooled broth can be packed into glass containers or food safe plastic bags for easy freezing.This broth can be frozen up to a month.